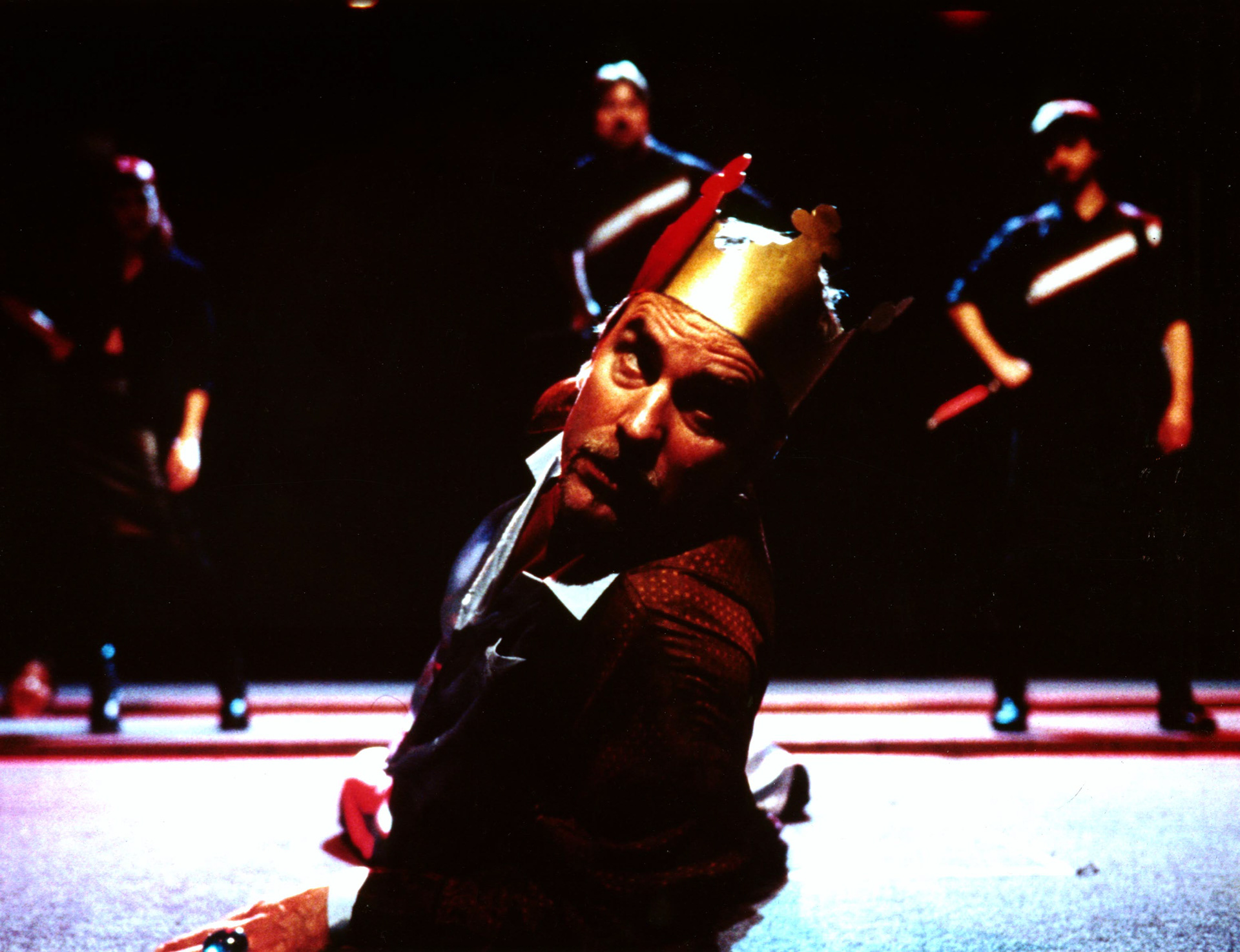 Macbett
November 2000 ­– January 2001
Division 13
By Eugène Ionesco
Premiere Translation by Gavin Witt
Directed by Joanna Settle
A co-production with greasy joan & company
Chopin Theatre, Chicago
 
 
About the Text: 
Ionesco's 1972 homage to Shakespeare (his favorite playwright) is a wild sprawling text in which: Duncan is a lunatic; Lady Duncan, Lady Macbett, and a witch are the same person; Banco and Macbett are twins; and Malcolm is a bloodthirsty tyrant who sings of Macbett's doom "Wagnerian style."
 
About the Production:
Ionesco's three-act Macbett was performed at Chicago's Chopin Theatre – an aging 170-seat venue with a notably deep playing space – as a co-production with greasy joan & company. The play had a running time of roughly three hours. Director Joanna Settle's interprestation of the script drew from traditions of absurdism, vaudeville, and circus performance.  D13's Katie Taber was featured as Lady Duncan, Lady Macbett, and a witch.
The project began with a script development period culminating in a public reading.  Ten weeks of rehearsal with the cast of 16 followed, including 15 days of technical rehearsals — essential for the woven nature of the sound, lights, and multimedia elements. As a result of this extended schedule, it was possible to add Ionesco himself as a character, portrayed by a chorus of four.  This ensemble within the ensemble debated his musings on the theatre, and made it possible to bring Ionesco's comic stage directions to light.
Andrew Lieberman's set was designed to invoke both war and comedy – 45′ wide and 70′ deep, with 3′ wide trenches running left to right, and constructed at a height of 3'6".  Characters entered and exited the stage by climbing, groping, or jumping, seeming to will the story onto the stage.  The environment was aptly dubbed by one journalist as an "absurdist shooting range."
Macbett received a Joseph Jefferson Award for Excellence in Sound Design, honoring the work of sound designer Mike Frank and composer Andre Pluess.
 
PROGRAM INFORMATION
Set Design: Andrew Lieberman
Costume Design: Stacy Ellen Rich
Lighting Design: Gwen Grossman
Sound Design: Mike Frank and Andre Pleuss
Production Manager: Alex Blunt
Technical Director: Nathan Combs
Assistant Director: Rebekah Scallet
Production Stage Manager: Heather Lee Chappell
Dramaturg: Lila M. Stromer
Vocal Coach: Holly Orfanedes-Roth
Stage Manager: Paige Keedy
 
PRODUCTION STAFF
Marketing: Kathy Van Zwoll
Fight Choreographer: Brian LeTraunik
Assistant Set Designer/Props Master: Ann Bartek
Assistant Lighting Designer: Charles Cooper
Assistant Stage Manager: Carlos Diaz
Film: Dave Smith
Video/Film Assistant: Kristin Lohr
Lighting Production Manager/Master Electrician: Ruth Hudson
Assistant Production Manager/Light Board Operator: Ryan Durling
Sound Board Operator: Mark Comiskey
Dramaturgical Assistance: Tom Duncan, Megan Powell, Tanera Marshall
Graphic Designer: Marianna Levant
Press Contact: Karin McKie